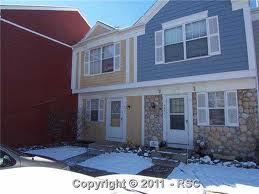 Are you looking to relocate to Colorado Springs? Sometimes, relocation to a new city can be scary. New neighbors, new streets, and new surroundings can be a little intimidating if you don't know the area. Let's take a brief look at what you can expect when you relocate to Colorado Springs so that you can more easily adapt to your move.
When you move to Colorado Springs, the one thing you can count on is beautiful surroundings. Colorado Springs is located right at the base of Pikes Peak, the highest peak of the Rocky Mountains. Each year, this city attracts millions of visitors looking to experience a small part of the beauty that it has to offer. Within the Colorado Springs area, you will find a variety of parks for nature lovers including the Garden of the Gods, the Native American tribal grounds, and Seven Falls. Wherever you go in this city you will be surrounded by sky high mountains, unique rock formations, and natural beauty.
If the gorgeous scenery is not enough to help you adapt to your relocation in Colorado Springs, perhaps the weather will be. Because Colorado Springs is surrounded by the Rocky Mountains, the climate here is quite mild and dry. In the summer, average temperatures range between 70 and 80 degrees, making it the perfect weather to catch a tan. In the winter, temperatures are mild reaching an average of around 28 degrees.
When it comes to relocating to Colorado Springs you will find that most of the economy is based around military installations, aerospace, and tourism. To give you an idea of how strong the military influence is, one fifth of all people in the city of Colorado Springs are employed by the military! Aside from the military, however, Colorado Springs also places a great deal of emphasis on space research. The Combined Services Space Center and the Consolidated Space Operations Center are both located in Colorado Springs, making it the perfect location for those interested in aerospace. As for tourism, Colorado Springs is booming. On average, the city drives over one billion dollars each year in tourism alone, one of the main attractions being Pikes Peak.
If you are looking to raise a family in Colorado Springs, you have plenty of educational opportunities to choose from. Colorado Springs offers access to over 39 different elementary schools, 9 middle schools, 9 high schools, and 6 alternative learning schools. Colorado Springs also has a lot to offer in terms of post-secondary education. With over 20 different colleges and universities in the surrounding area, Colorado Springs is home to Colorado College, the University of Colorado, and the United States Air Force Academy.
Relocation to a new city can be scary, but be assured that relocation to Colorado Springs, you will adapt quickly. Surrounded by beautiful scenery, a booming economy, and excellent educational opportunities, it does not take one long to adapt to life in Colorado Springs!