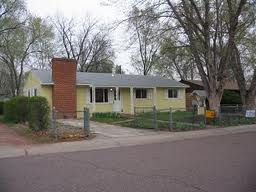 Everyone wants to be a homeowner and live the American Dream and today's real estate market provides some pretty good perks for those looking to buy a home in Colorado Springs. However, before you buy, there are some things to consider. Purchasing a home is the most important decision you will make in your lifetime. Therefore, it makes sense to understand what's important to know before you buy.
As property values have been falling, it's a great time for home buyers to find good deals on Colorado Springs homes that are for sale whether you are looking for that perfect retail home or want to save a little more money by purchasing a short sale or REO property. While now is the time to take advantage of great pricing, you need to ask yourself if you are ready and willing to make a commitment to stay in the house for a few years. When people buy a home, they anticipate growing equity in their home over time. There was a time, not too long ago, where this happened pretty quickly, however, in today's market, it takes longer. When you add in the transaction costs involved in buying and selling a home, you could find yourself losing money on your home if you try to sell too quickly. So, first things first – can you can make the commitment to stay in the home for a few years?
Some other questions you should answer before you and your Pink Realty agent go out to find your dream home:
• When do you want buy? Depending on the time of year you begin house hunting, the market may be slower. For instance, if you are buying in the colder seasons (i.e., through the holidays), sellers may be more willing to offer incentives or be more flexible on price.
• If you aren't in a hurry to buy, you might want to consider buying a home that is being sold as a short sale. The short sale process does take longer than a typical retail sale, but if you have the time to work through the process, you will have the opportunity to get more house for your dollar if you buy a short sale.
• What part of town and what neighborhoods do you want to live in? Colorado Springs neighborhoods that have better schools tend to have higher values. Even if you don't have school-aged children, it's an important aspect to consider when it does come time to sell because resale values will be higher. • Be sure the neighborhood you choose is one you can commit to staying in for a while, so do some research on different Colorado Springs neighborhoods to find out about property values and if houses are selling close to their asking prices. Find out about the attributes that are important to you such as schools, shopping, recreation, homeowners associations and dues, crime rates, etc. Remember that your Pink Realty agent can help you find any of this information that is of interest to you. Just call us at 719-393-7465 (Pink) to get started.
• How many houses in the neighborhood are for sale and how fast are they selling? Talk to neighbors to see how they like the neighborhood. If they are selling, ask why they are selling. Again, consider your lifestyle and make sure the neighborhood will work for you.
Another very important aspect of buying a house is financing. The average person needs to obtain a mortgage in order to purchase a home, and getting a mortgage these days isn't as easy as it used to be! The human element of issuing credit has been removed from credit transactions, so the approval or denial of a mortgage is determined by your credit score. Your credit score is determined by the information that is in your credit report. Therefore, you need to know what's in your credit report and what your credit score is. Knowing this information helps in several ways. If your credit score falls short of the approval requirements, you will have an idea of what you'll need to do to raise your score. Again, if you need help with this, just call Pink Realty at 719-393-7465 (Pink) and ask to speak to our loan specialist and she will be happy to help you with any loan or credit issues or questions you may have. If you have great credit and a high score, you will have some negotiating power when it comes time to determine interest rates and points. You are entitled to free copies of your credit report annually from all three credit bureau reporting agencies (Equifax, Experian and TransUnion). Actually obtaining your credit score generally costs a fee, however, you can have a lender pull your credit report and tell you your credit score for free. Most conventional lenders ideally look for a credit score of 720 or higher. In today's economy, there aren't many people with scores that high. If you don't qualify for a conventional loan, you can apply for an FHA or VA loan. While FHA has their own credit score requirement of 580 or higher, many lenders add their own requirements to FHA financing.
If you find your credit score doesn't qualify you for a mortgage, you will need to do some homework to get your scores up. We have posted previous articles on credit reports and repairing your credit. You can review these articles to learn about how you can repair your credit or just call the Pink Realty office at 719-393-7465 (Pink) and ask to speak to our lender. She can definitely help.
If your credit is strong enough to qualify you for a mortgage, the next thing to figure out is how much of a mortgage can you realistically afford. An industry rule of thumb says you can afford a mortgage that is 2-1/2 times your annual salary, but this rule of thumb doesn't take into consideration your monthly debt and living expenses. To better determine what you can afford, you can use an online mortgage calculator. These calculators take into consideration your income and your monthly debt payments to give you a more realistic mortgage amount for your budget.
Once you know the amount of the mortgage you can afford, the next thing to determine is how much cash you have available for a down payment. Most conventional loans require 20% of the purchase price as a down payment to avoid private mortgage insurance. If you don't have 20%, you can put as little as 5% down if you agree to have private mortgage insurance added to your loan. If you qualify for FHA financing, you may only have to put down 3-1/2% of the purchase price. Depending on how much cash you have to put down will also determine how much of a mortgage you can afford. As you can see, it's important to know if you can obtain a mortgage, how much of a mortgage you can afford and how much you can afford for a down payment. Knowing the answers will help you determine what price range you and your Pink Realty agent need to be looking in for your new home.
If you are confident you will qualify for a mortgage, it's time to have contact your Pink Realty agent and start looking for your dream home. You want to pick a lender and a real estate agent who will work for you and take your interests to heart.
Once you have been approved for your mortgage, you don't want to do anything to change your credit report or your financial situation. Therefore, avoid doing any of the following:
• Don't apply for new credit. Inquiries affect your score and will have to be explained to your lender.
• Don't incur more debt. This means don't increase your credit card balances or credit lines and don't take out any new loans. It will affect negatively affect your debt to asset ratio.
• Keep accounts current and make payments on time.
• Don't pay off collections or charge off accounts, don't close any credit card accounts and don't consolidate debt into one or two credit cards.
• Don't make any large deposits other than your standard payroll as all deposits will have to be explained.
• Don't make any large cash purchases as it will lower the amount of verified funds in your bank accounts.
• Don't change jobs without talking with your loan officer first.
OK, now that you know your credit is good, you know how much cash you have to put down, you are working with a Pink Realty agent and you know what neighborhoods you are interested in living in. Congratulations! You have just crossed the first big hurdle.
Now it's time to start looking for the house that's right for you. While you can comb the internet and newspaper ads to find houses yourself, it can easily become overwhelming with the large inventory of homes that are on the market. To save you time and miles of legwork, your Pink Realty agent will do all of this work for you. They can narrow houses down based on your interests and your budget and when it comes time to making an offer, signing contracts, disclosures, and addendums, they are there to help you understand what it all means.
Here are some tips that will make things easier as you and your Pink Realty agent look for your Colorado Springs dream home.
• Make a list of things the house must have and a list of what you would like to have. Prioritize your list and separate the 'have-to-have' from the 'want-to-have'. Don't be too restrictive on your search criteria. For instance, include a price range that is 10% above and 10% below your budget.
• Bring a notebook and camera with you to help you remember the details of each house. Take pictures and take notes about each because after you have seen several, you can easily forget details or get the details and houses mixed up!
• With each house you see, keep an open mind. Don't reject a house just because it was short a few features on your wish list or was a bit out of your price range. Remember, the asking price is simply a starting point. You will have an opportunity to negotiate once you are ready to make an offer.
Once you have found the home you want, work with your Pink Realty agent to determine what your offer should be. Depending on the market and the area, you may have to act quickly. Your agent should have a good idea about what homes in that neighborhood are selling for and to know how close your original offer should be to the asking price. Additionally, you should discuss what terms you would like in the contract such as how quickly you want to close, what stays with the house, how much earnest money you have to put down, and so on.
When you have settled on a home and are in the process of negotiating a final price, you will have the contract contingent up the results of a home inspection. Have a licensed inspector inspect the home to see if there are any major repair surprises. Home inspects can check the heating, plumbing, electric, roof, etc. to see if there might be some foreseeable issues in the future. You may want to ask for a home warranty as well. There are all things your Pink Realty can help you will.
Buying a beautiful Colorado Springs homes is no easy task, but it is a very rewarding experience when you know what to expect and you are working with the professionals at Pink Realty who have your best interests at heart. We have experienced buyer's agents who will work with you to find the home of your dreams. You can also use our professional in-house lender that will get you an affordable mortgage and help you with credit repair if you need help with that. Whether it's a retail property or a short sale, they are professionals, knowledgeable and experienced. Additionally, we have an outstanding short sale team that not only has a very high success rate but also takes great pride in getting the deals closed in a timely manner. We are the ones to call!